The English pages are not yet translated.
You are therefore viewing the German version.
deutsch english español portugués
Hello, I'm Rodrigo
Your international hairdresser from Brazil.
In my dream job for more than 35 years.
With experience from major hair studios in London, Paris, Madrid and Palma de Mallorca.
Operating in Munich since 2020 in my own studio.
Christmas gift voucher
You can order the voucher with your desired amount by phone or email. If you pay in advance, we will send you the voucher by post. Free postage for orders over 40 €, otherwise plus 2 € for postage. Or you can visit us in the salon and buy it at the cash desk.
Christmas gift voucher
From 100 € voucher value
we give you
a hydration worth
35 € in addition.


You can order the voucher with your desired amount by phone or email. If you pay in advance, we will send you the voucher by post. Free postage for orders over 40 €, otherwise plus 2 € for postage. Or you can visit us in the salon and buy it at the cash desk.


Welcome to my world of beauty & care
As a make-up artist and masseur, I can offer you more than a new hairstyle. My team and I work exclusively with high-quality beauty and care products from La Biosthétique in Paris. La Biosthétique products are only available from good hairdressers in Europe as expert advice is important. You can therefore purchase their products directly through us.
Which haircut suits my type? Every visit starts with a good consultation on styling as well as hair and scalp care. We also offer you treatments that can be done during hair treatments or with minimal effort, such as eye care, manicures, pedicures.
Balayage
Balayage ensures a graduated, natural-looking effect through to the tips. This requires a lot of experience and skill. Balayage (French for sweep) is suitable for all hair colours, long or short. Dark and light colour accents are possible. It is also well suited to cover gray hair without colouring all your hair. Our balayage gives your hair that special shimmer, as if kissed by the southern sun. And when your hair grows, the look stays completely natural for longer.
Classic keratin treatment
The keratin protein treatment makes limp, damaged hair supple and prevents breakage. It is suitable for hair that has been damaged by sun exposure or exhaust fumes, or hair has been chemically treated, e.g. dyed and bleached. Treatment once a month would be ideal. We can advise accordingly.
Brazilian keratin smoothing
If you have frizzy, wavy or voluminous hair and prefer straight, soft and frizz-free hair – without daily styling, this treatment is for you. An advantage is that the Brazilian method maintains smoothness, shine and suppleness for up to 5 months, depending on your hair type. As the roots grow, it should be refreshed. My clients say: Brazilian keratin smoothing has changed their lives.
Natural products from Paris
"Total Beauty Concept"
We work exclusively with the high-quality products from La Biosthétique Paris for scalp, hair and skin. With our expertise and the "Total Beauty Concept" from La Biosthéthique, our customers receive unique care that is tailored to their personal needs.

La Biosthéthique is not available in supermarkets or health and beauty stores. You can only get these products from top hairdressers in Europe alongside professional advice. Everyone is different and La Biosthethique has a plenty of products for a variety of skin and hair types. Bio in name, but also in the company's principles – natural ingredients, sustainability and environmentally compatibile.
Protection and care for your summer

Summertime, holiday time. For your body, however, this is often not pure relaxation. Sun, salt water and chlorinated water from pools and open-air swimming pools attack your hair and skin. La Biosthétique has a complete care range for this. It was developed to let your hair and skin be pampered by the sun to your heart's content and to be perfectly cared for and safely protected at all times - from head to toe. We will be happy to advise you.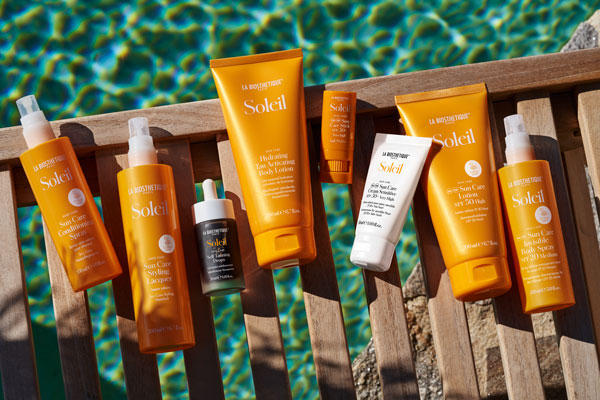 Not only our hair, but also our skin is important for a good appearance. With a holistic anti-ageing concept, La Biosthétique takes clinically proven influence on past, present and future factors of skin ageing. You can get the products in our salon.

o dry your hair like the pros you will need a good hair dryer and the best technique. It's important to have a low temperature, the right brushing direction and good finger technique.

Our partner La Biosthétique has published some great videos on Youtube with instructions for quick hairstyles.
Very professional
Was great and very professional, my neck is feeling much better.
Fabulous hair colour
Rodrigues "conjured up" a fabulous hair colour for me, great haircut and styling. And all of this in a manageable amount of time, because I like to be done quickly. Very friendly and personable service. Professional treatment. Simply top.

I'm so happy
Thank you for the great haircut, Rodrigo! I'm so happy I found it again! Highly Recommended! Gracias Rodrigo! Me encanta el corte y estoy feliz de haberte encontrado nuevamente! Completamente recomendado!

Best Friseur in Munich
Rodrigo is a great professional. His modern, beautiful and bright Salon is very well located, close to Marienplatz. He uses excellent quality products and he is very stylish in cutting and coloring hair. I have recommended him to all my friends, because after many years of visiting various hairdressers in the city, I finally found the best Friseur in Munich who has my hair in a beautiful color, a trendy haircut and the best is my hair is totally healthy.